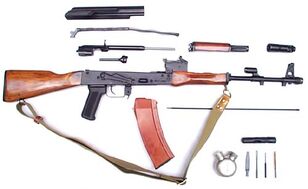 The AK-74 (Russian: Автомат Калашникова образца 1974 года or "Kalashnikov automatic rifle model 1974") is a 5.45mm assault rifle developed in the early 1970s in the Soviet Union. It was developed from the earlier AKM (itself a refined version of the AK-47) and introduced in 1974.
The rifle first saw service with Soviet forces engaged in the Afghanistan conflict. Presently, the rifle continues to be used by the majority of countries of the former USSR. Additionally, unlicensed copies were produced in Bulgaria (AK-74 and AKS-74U), the former East Germany (MPi-AK-74N, MPi-AKS-74N, MPi-AKS-74NK) and Romania (PA md. 86). Beside former Soviet republics and eastern European countries, Mongolia, North Korean Special Forces, and Vietnamese People's Naval infantry use AK-74s.

Design details
The AK-74 is an adaptation of the 7.62mm AKM assault rifle and features several important design improvements. These modifications were primarily the result of converting the rifle to the intermediate-caliber 5.45x39mm cartridge, in fact, some early models are reported to have been converted AKMs, with the barrel re-sleeved to 5.45x39mm.The result is a more accurate and reliable rifle than the AKM. The AK-74 and AKM share an approximate 50% parts commonality (interchangeable most often are pins, springs and screws). Variants: AKS-74, AKS-74U, AKS-74UB, AK-74M, AK-101, AK-102, AK-103, AK-104, AK-105 Weight: AK-74: 3.3 kg (7.3 lb)
AKS-74: 3.2 kg (7.1 lb)
AKS-74U: 2.7 kg (6.0 lb)
AK-74M: 3.4 kg (7.5 lb)
Length: AK-74: 943 mm (37.1 in)
AKS-74 (stock extended): 943 mm (37.1 in)
AKS-74 (stock folded): 690 mm (27.2 in)
AKS-74U (stock extended): 735 mm (28.9 in)
AKS-74U (stock folded): 490 mm (19.3 in)
AK-74M (stock extended): 943 mm (37.1 in)
AK-74M (stock folded): 700 mm (27.6 in)
Barrel length : AK-74, AKS-74, AK-74M: 415 mm (16.3 in)
AKS-74U: 210 mm (8.3 in)
font:wikipédia the free encyclopedia
Community content is available under
CC-BY-SA
unless otherwise noted.