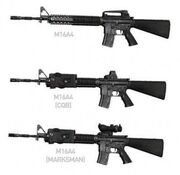 History
The M16A4, now standard issue for front-line U.S. Marine Corps and some U.S. Army units, replaces the combination fixed carry handle/rear iron sight with a MIL-STD-1913 Picatinny rail, allowing for the rifle to be equipped with a carry handle and/or most military and consumer scopes or sighting systems. Military issue rifles are also equipped with a Knight's Armament Company M5 RAS handguard, allowing vertical grips, lasers, tactical lights, and other accessories to be attached, coining the designation M16A4 MWS (or Modular Weapon System) in U.S. Army field manuals.
Gameplay
The M16 fires in two firing semi-automatic and 3-round burst and comes in three variants standard, CQB and Marksman.
Community content is available under
CC-BY-SA
unless otherwise noted.